Profile
Grant Access
Subscribe
Track Account

Stories of a short, fat bastard.
Written by a mild mannered maniac.
Seed Account
Created on 2009-04-15 08:18:29 (#66168), last updated 2017-03-18 (4 days ago)
24,610 comments received, 72 comments posted
4,486 Journal Entries, 205 Tags, 0 Memories, 40 Icons

About

Mini Bio
I was dragged up on a farm in the bush, which was a long way from everywhere and full of wild animals. It is not surprising that I find kangaroos, bearded dragons and echidnas to be ordinary animals. Currently I live in Dubbo, NSW, a long way from everywhere. I like to fiddle about with POVRay and other rendering software, I write a bit, and I rescue and rehab bats, echidnas and other boring animals and birds.
I selected this boring Live Journal style because it's easy on the eyes, which in my opinion is better than looking like someone ate a packet of M&Ms and vomited on the screen.
I look a lot like this: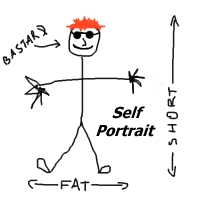 Recommended Reading
And now for some random surrealism:
Solar X-rays:

Geomagnetic Field:
From
n3kl.org

Connect
afd
,
alan parsons project
,
alt.callahans
,
alt.fan.dragons
, alt.furry.lifestyle,
animal rescues
,
animals
,
anthropomorphic art
,
art
,
bats
,
birds
,
computers
,
discworld
,
drawing
,
elo
,
elp
,
fantasy
,
harry potter
,
internet
,
jimi hendrix
,
led zeppelin
,
life
,
life on mars (uk)
,
life on mars (usa)
,
mike oldfield
,
monotremes
,
photography
,
pil
,
pink floyd
,
reading
,
rendering
,
sex pistols
,
sf
,
sky
, spinnach,
spooks
,
the beatles
,
the kinks
,
the who
,
time team
,
writing
,
xtc
,
yes
, ~^ö^~
batbloke

People
[View Entries]

Communities
[View entries]

Member Of (4):

Subscriptions (6):

Administrator Of (0)

Feeds
[View Entries]

Subscriptions (0)

Linking
To link to this user, copy this code:
On Dreamwidth:
Elsewhere: